Introducing Regional United States Battlegroups
Magister
I think regional battlegroups are a much more workable idea than the utterly failed "experiment" we are currently taking part in, but I still think these battlegroups are too big. I have put together my own idea of regions based on regional cultures and battlegroup activity level, as derived from total average energy (thanks to Gabriel's score thread!). I tried to keep each regions' energy output between three-quarters of a million and 1.25 million energy per campaign (I was not totally successful in this). I have 10 regions, which I think is a good number between the 51 we used to have and the 5 you are using now. I think this map allows for more active gameplay while not becoming overwhelming, even as the game grows. I'm hoping you are still open to fine-tuning the battlegroups so we get to an arrangement that works well for all.
Northeastern BG: Average energy 885,958
Maine, New Hampshire, Vermont, Massachutsettes, Rhode Island, and Connecticut
New York BG:
A battle group with more than 1000 players and more than 750,000 average campaign energy does NOT need more players.
North Atlantic BG: Average energy 1,175,411
Pennsylvania, New Jersey, Delaware, Maryland, and the District of Colombia
Mid-Atlantic BG: Average Energy 1,197,176
Virginia, West Virginia, North Carolina, Kentucky, Tennessee, Arkansas
Southern BG: Average Energy 1,339,818
South Carolina, Georgia, Florida, Alabama, Mississippi, Louisiana
Great Lakes BG: Average Energy 2,016,172
Michigan, Ohio, Minnesota, Wisconsin, Indiana, Illinois
Great Plains BG: Average Energy 1,157,319
North Dakota, South Dakota, Nebraska, Wyoming, Kansas, Oklahoma, Missouri, Texas, Iowa,
Southwest BG: Average Energy 831,218
Arizona, New Mexico, Colorado, Utah, Nevada
Northwest BG: 852,929
Washington, Oregon, Idaho, Montana, Hawaii, Alaska
California: see above re:New York
This is obviously just my idea, but from my experience with the game I think it would work well.
Thanks,
Kieri
Edited by Kieri (Nov. 28, 2011 01:59:31)
Archmage
great lakes bg gets crazy energy haha. but yes i'd like this set up more.
Archmage
I go to NC a lot.
I could still play in two BGs!
Archmage
Archmage
Magister
Caenarys
Hawaii is split up?
Gah, no, that was an artifact from when I had it in a different group. It's fixed now. Damn tiny islands! ;-)
Awakened
For those of us who are visual people, here's how the US is split up according to GA. The numbers are the average energy gathered per campaign according to the scores reported to me... which means Montana, the Dakotas, Delaware, and second BGs are not taken into account.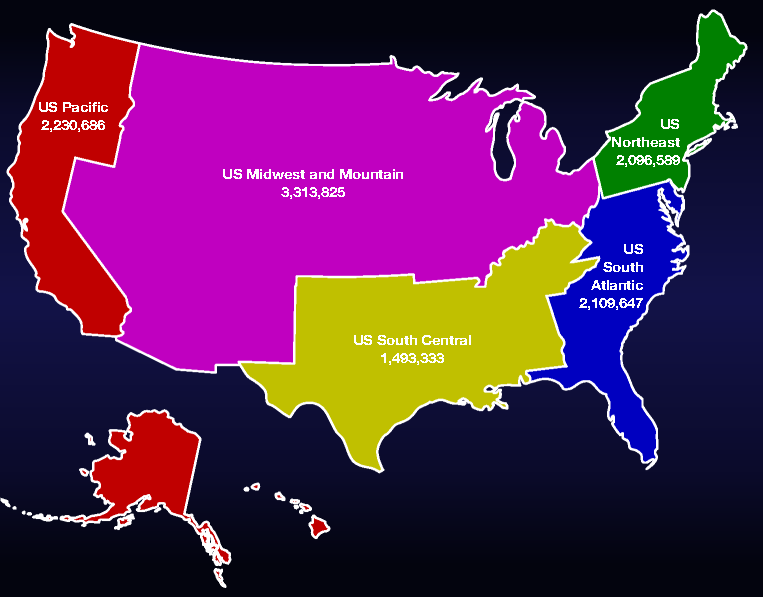 As you can see, the energy distribution is actually fairly even the way GA did. I would have liked to see some more states in US South Central and out of US Midwest and Mountain, but otherwise, 2,100,000 energy average per region.
Keep in mind, guys, that Canada is just as wide as the US and is not split regionally.
Seeker
YESSSSS!!! this means I'll be in the smallest bg
Archmage
I prefer Kieri's split, but I'll enter the next campaign with an open mind.
Enlightened
Thanks Kieri and Gabriel. I'm reasonably optimistic about the changes GA is making, but I worry about the size of these battlegroups. I would be much happier if they went with Kieri's approach instead.
---